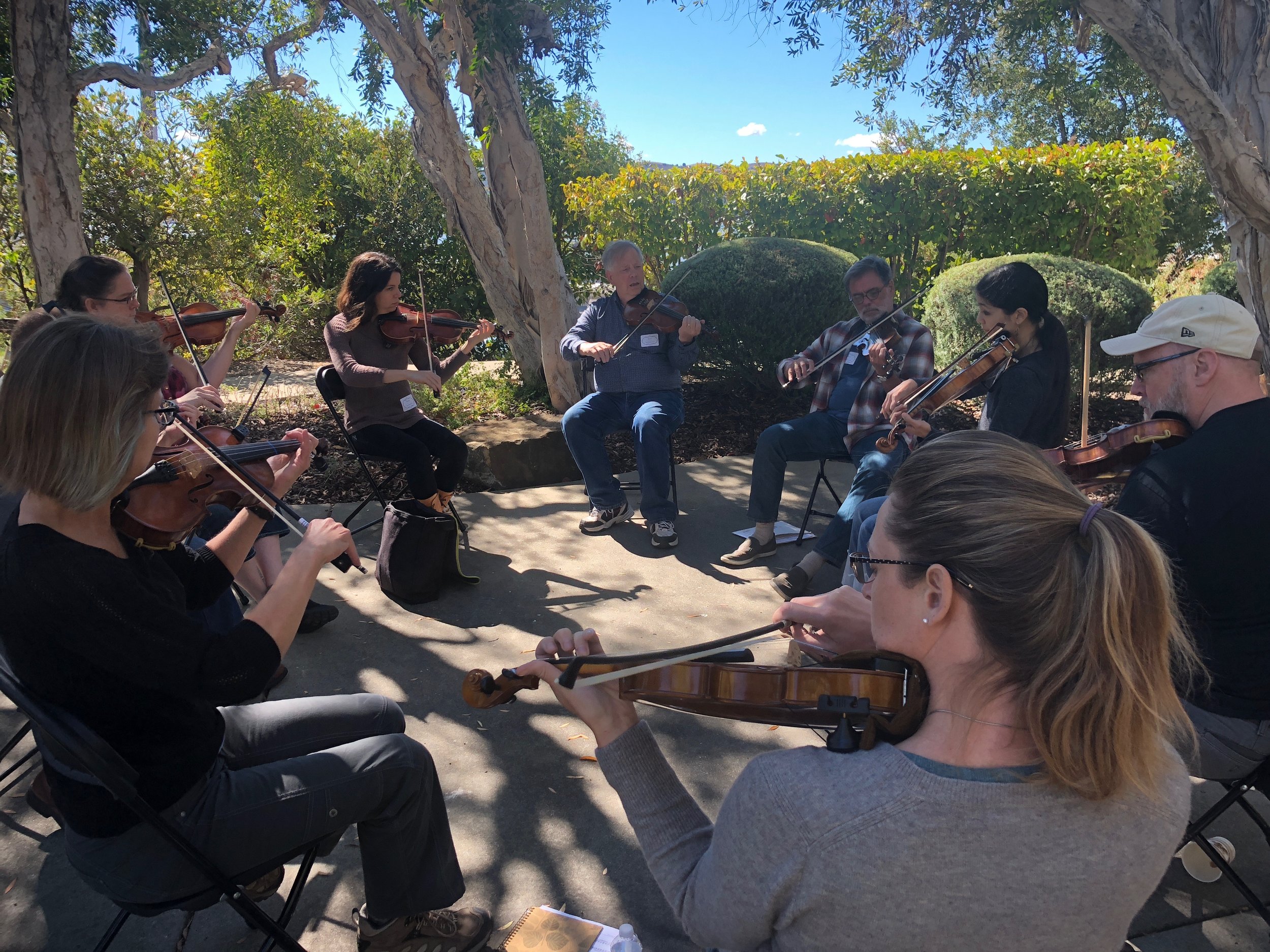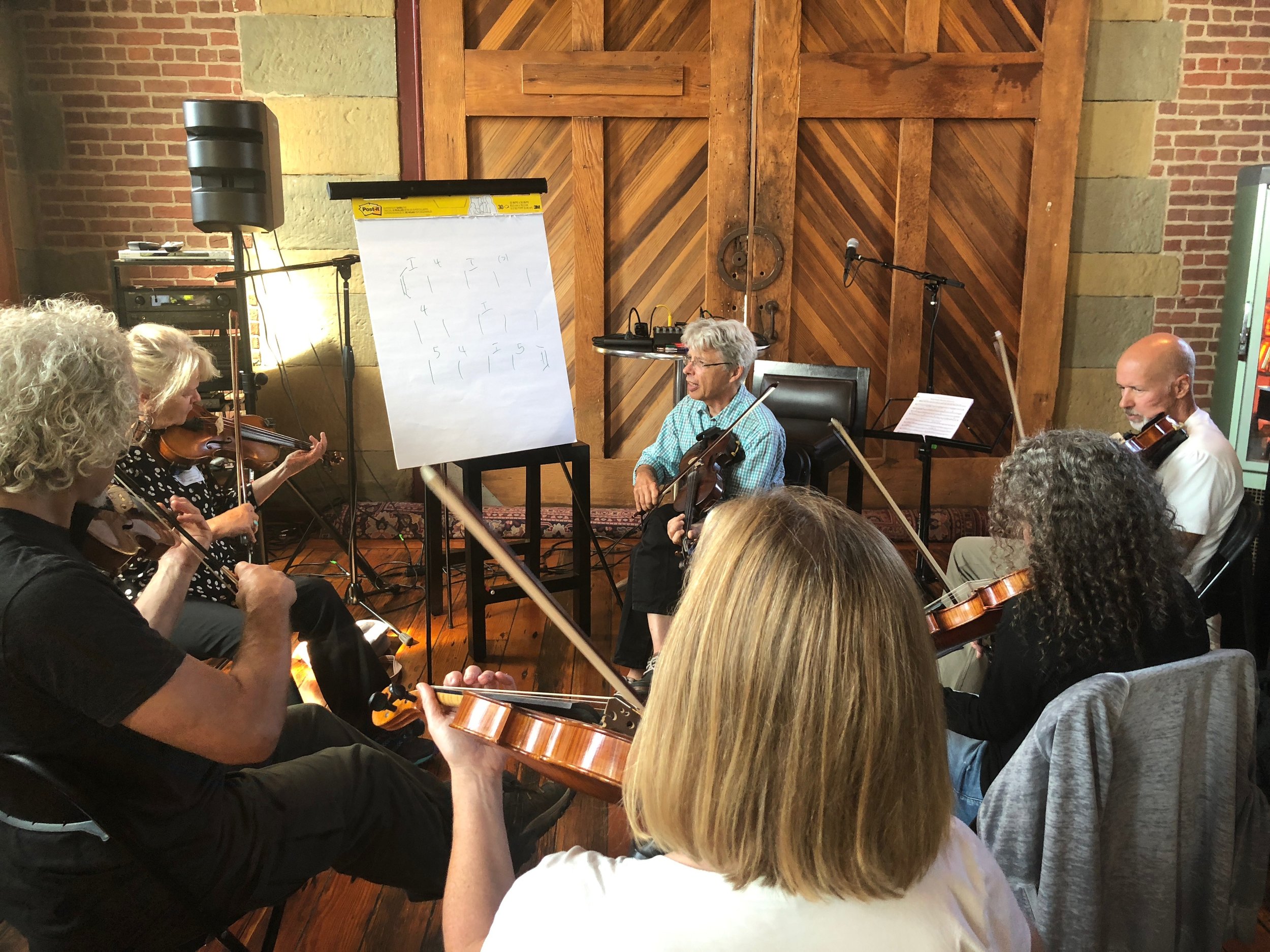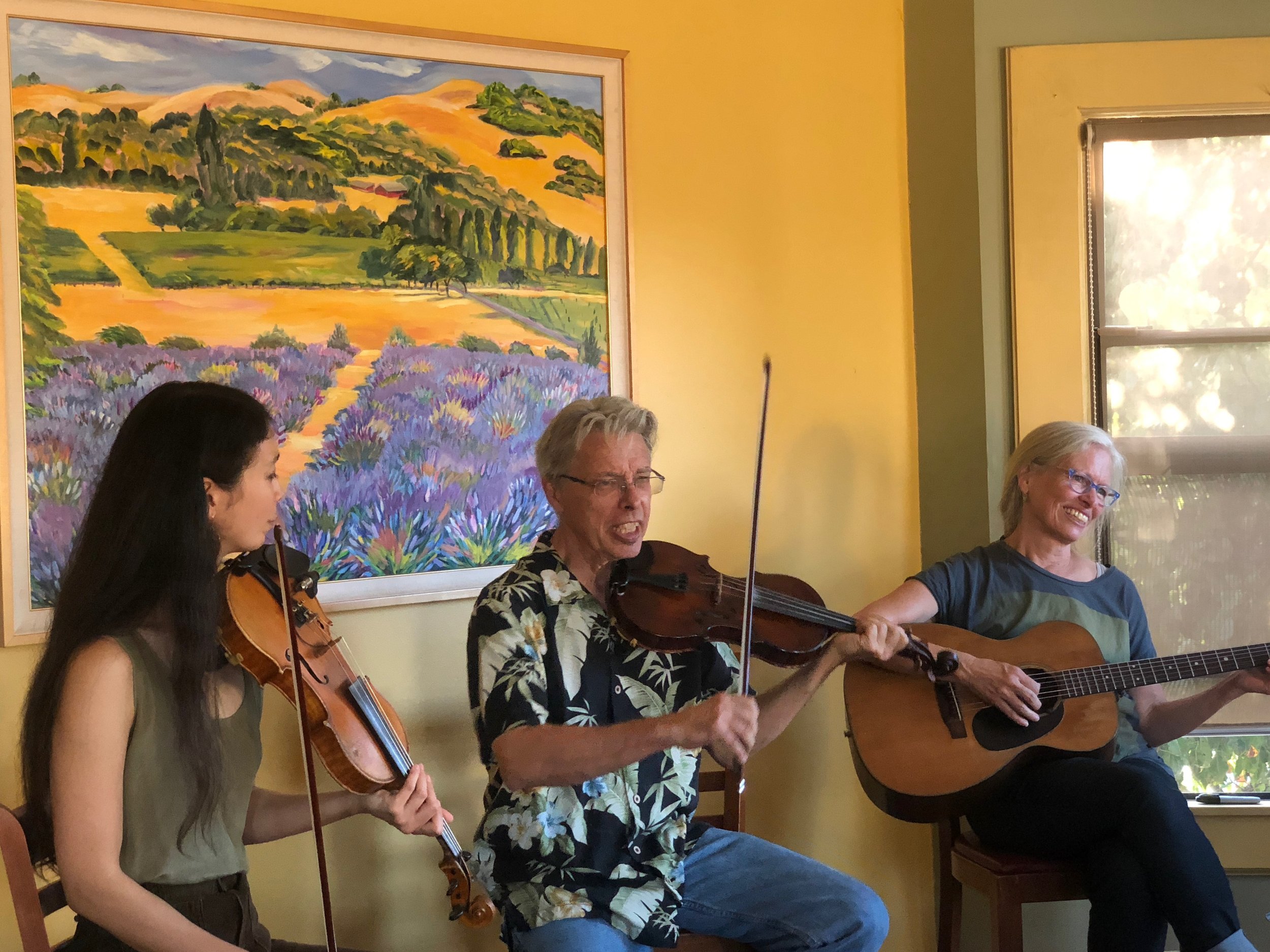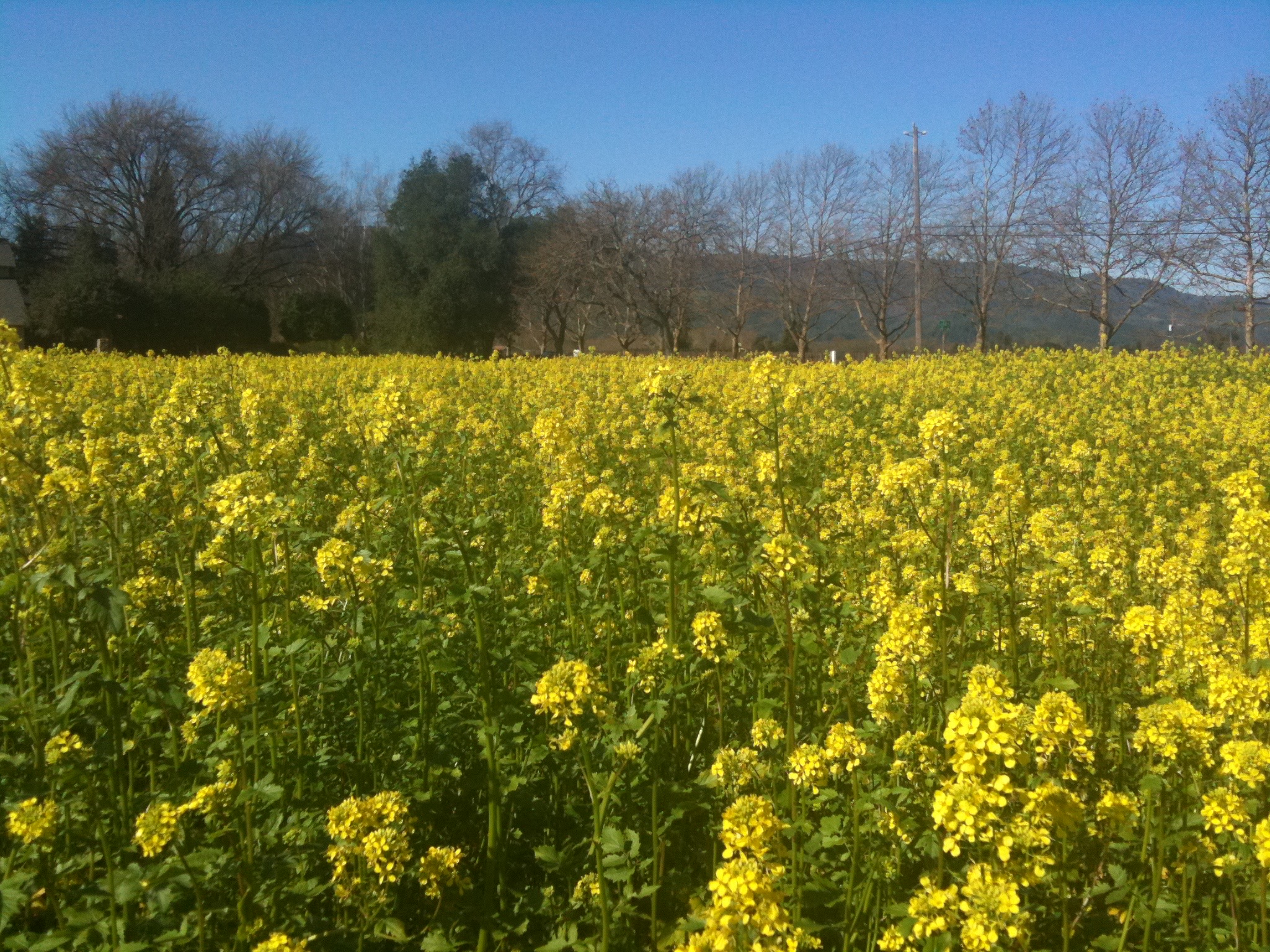 Expand Your World with Music and Learn from the Best
California FiddleR's Intensive with Darol Anger
and Guest Instructors Annie Staninec and Emy Phelps
October 11 - 13, 2019 Benicia California


Join us for three days of fiddle playing, learning, jamming and hanging out with one of the best fiddle players of our time, Darol Anger. No matter your skill level, you'll find the Fiddle Intensive to be a rewarding and highly educational experience.
We will touch on many styles of fiddle playing from Bluegrass, Swing, Americana, and Old Time Music to improvisation. Darol, Annie, and Emy will give you insight into a variety of techniques, styles, and their personal favorite tips that are guaranteed to inspire and improve your playing. This retreat is a full-on fiddle intensive experience that also doubles as a fun-filled week-end getaway.
Not only will you get a chance to learn from these amazing musicians, but there will be plenty of time for actual playing with the other students, practicing new arrangements, and even joining Darol for a tune at the evening jams or the final student performance.
Part of the magic and joy of this 3-day event is that it is a relaxed, intimate gathering with others who love the fiddle and who come together to meet new musical friends, enjoy good food and wine, make music – and just have a GREAT TIME!
The CA. Fiddler's Intensive begins on October 11, 2019 at 4:00 PST
Time until all the magic begins….
You will even have the opportunity to perform or jam with your fellow musicians and instructors each evening
ALL YOU HAVE TO DO IS BRING YOUR fiddle AND BE READY TO MAKE SOME MUSIC!!
(Space is limited to 30 students ONLY, so hurry! )
darol anger
One of the most influential fiddlers alive, Darol Anger is an innovative and popular clinician who works with music teachers and students of all ages in universities, camps and festivals across the United States, helping grow interest in contemporary improvising and vernacular strings.
He helped drive the evolution of the contemporary string band through his involvement with numerous pathbreaking ensembles such as Mr Sun with fellow virtuosos Grant Gordy and Joe K. Walsh, his Republic Of Strings, The Turtle Island String Quartet, The David Grisman Quintet, Montreux, The Duo and other ensembles. Today Darol can be heard on the Sim City soundtracks and on NPR's "Car Talk" theme every week, along with Earl Scruggs, David Grisman and Tony Rice. In addition to performing all over the world since 1977, he has recorded and produced scores of important recordings, is a MacDowell and UCross Fellow, and has received numerous composers' residencies and grants. He has been a featured soloist on dozens of recordings and motion picture soundtracks.
As an Associate Professor at Berklee College Of Music, through his online Fiddle School at ArtistWorks.com or his work with the American String Teachers Association, he brings over 30 years of experience to teaching and residencies in jazz, blues, fiddle, chamber and orchestra settings.
Darol Anger has a passion for intergenerational education and performance as a way to bridge imaginary borders of age and culture. His group The Republic of Strings: a floating intergenerational orchestra that plays music scooped from backyards, garages and kitchens in every continent, has ignited his vision to create a great nation of string players. Darol is committed to promoting an appreciation of musical diversity and helping others evolve their own personal musical styles that are based on strong cultural roots and influences from around the world.
annie staninec
Annie Staninec has been playing the violin since the age of four, began performing professionally at the age of 12, and now makes her living playing, recording, teaching and touring internationally with renowned groups spanning several genres. Annie's fiery playing and unassuming charm have been captivating audiences around the world for years, whether she is on the festival stage with a bluegrass band, playing an intimate club with a gypsy jazz combo, or just playing for the local Cajun dance.
Annie toured with the 2006 Gypsy Caravan Tour, featuring such luminaries as David Grisman, Stephane Wrembel, and the Robin Nolan Trio, and has performed numerous times at Djangofest either leading her own group or with the Avatar Ensemble. She has just returned from an expansive European tour with the internationally acclaimed Kathy Kallick band, including headlining the annual European World of Bluegrass Festival in Voorthuizen, the Netherlands, and will be performing on the main stage at the prestigious California Bluegrass Association annual festival in June.
Annie makes her home in San Francisco, CA and is currently performing with the Kathy Kallick Band, Andrew Carriere and the Cajun Allstars, Doug Martin's Avatar Ensemble, the George Cole Quintet, and others. Her playing can be heard on albums from numerous artists including Kathy Kallick, Town Mountain, Avatar String Ensemble, and a soon to be released project by Jerry Vessel. Annie is proudly sponsored by Saga Cremona Violins, and the L.R. Baggs
emy phelps
Emy Phelps is a remarkable vocalist, songwriter and a musician of note from the Oregon region. She has performed all around the Pacific Northwest since the late 80's, and all over the world since 2011.

Trained in Ashland, Oregon's world-renowned theatre program, she worked for years in Shakespeare Festival events. She was a founding member of Brian Ransom's Ceramic Ensemble, touring internationally from 1980–1987. As a member of that ensemble she did research on indigenous music in Peru. She worked with Southern California artists Chris Darrow and others in the mid-80s. Her touring career was put on hold while obtaining a degree in education, teaching at elementary, high schools and middle schools and successfully raising four children, but now her public work continues as a recording artist, a member of the Furies, and as a duet with Darol Anger.

In addition to her current releases, Treasures and Look Up, Look Down, she released a previous recording entitled As It Should Be on Sweet Mercy Records.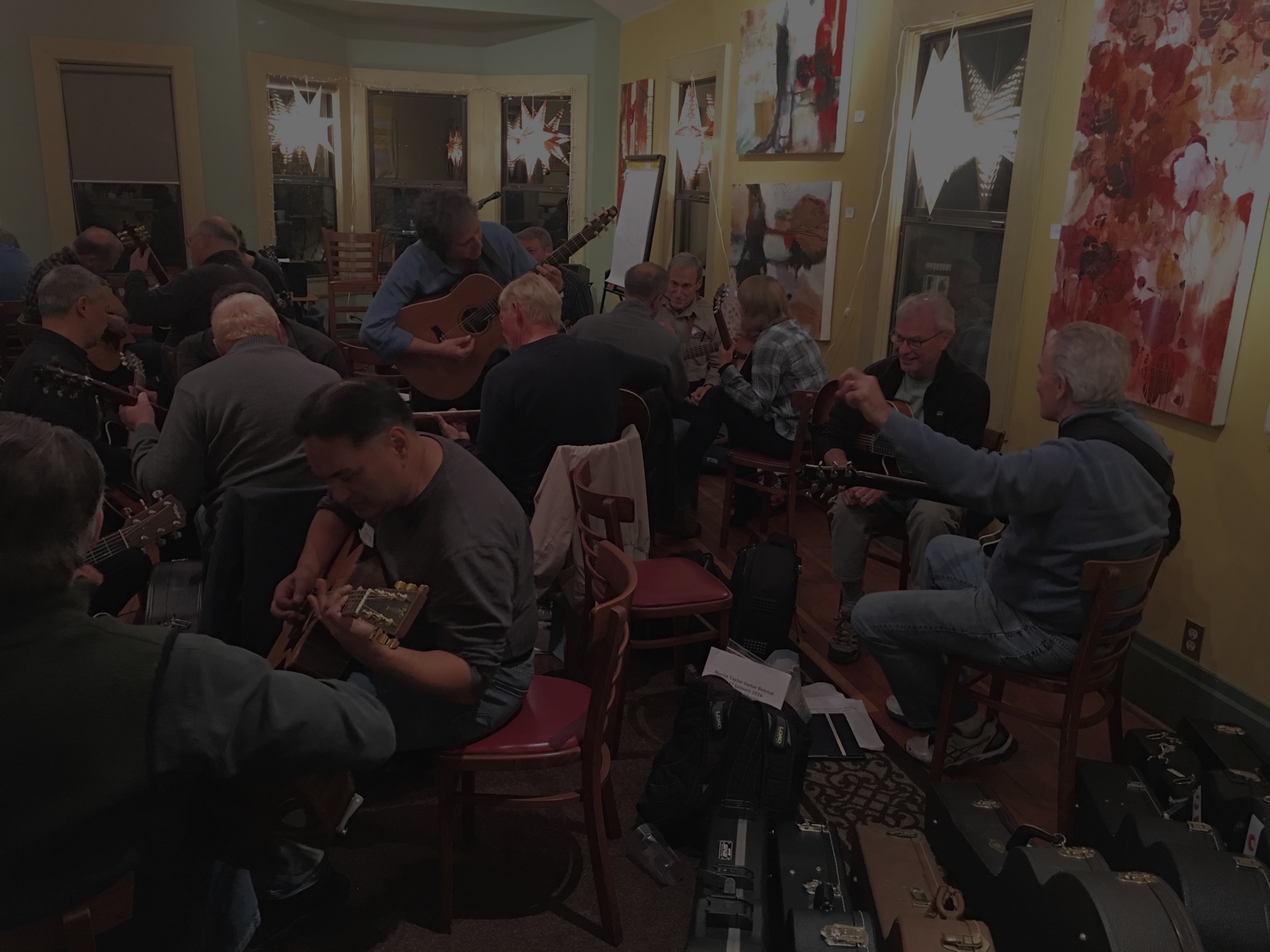 What will You be Doing each day?
Playing Your Fiddle (all day and into the evening too!). This is a high-energy, hands-on retreat where all activities are designed to help improve your skills and performance.
Improving Your Technique
The instructors will observe your technical issues and offer real solutions that will make your playing better.
Elevating Your Practice
You'll learn new exercises to use in your daily practice that will enhance your progress.
Exploring Multiple Styles
You'll be exposed to a wide-range of musical styles and approaches to the fiddle that will build your skills.
Learning New Tunes
Your repertoire will grow as Darol shows you how to play some of your favorite bluegrass, swing, Americana and old-time favorites.
Getting Inspiration
There's nothing like a concentrated event like this to re-ignite that fire in your creativity and fiddle playing.
Performing On Stage
If you want, you will be able to perform on stage with Darol, Annie, Emy and other students at a local venue.
RETREAT PARTICIPANT
$1399
ALL ACTIVITIES INCLUDED
ALL WORKSHOPS (14+ hrs instruction)
Welcome Goodie Bag
2 Lunches & 2 Dinners
Evening jam sessions & instructor performances
Sunday night student performance (optional)!
PARTNER ADD-ON
$199
PERFECT FOR FRIENDS AND FAMILY
Free time
Explore the area
2 Lunches & 2 Dinners
Evening jam sessions & instructor performances!
Sunday night student performance (optional!)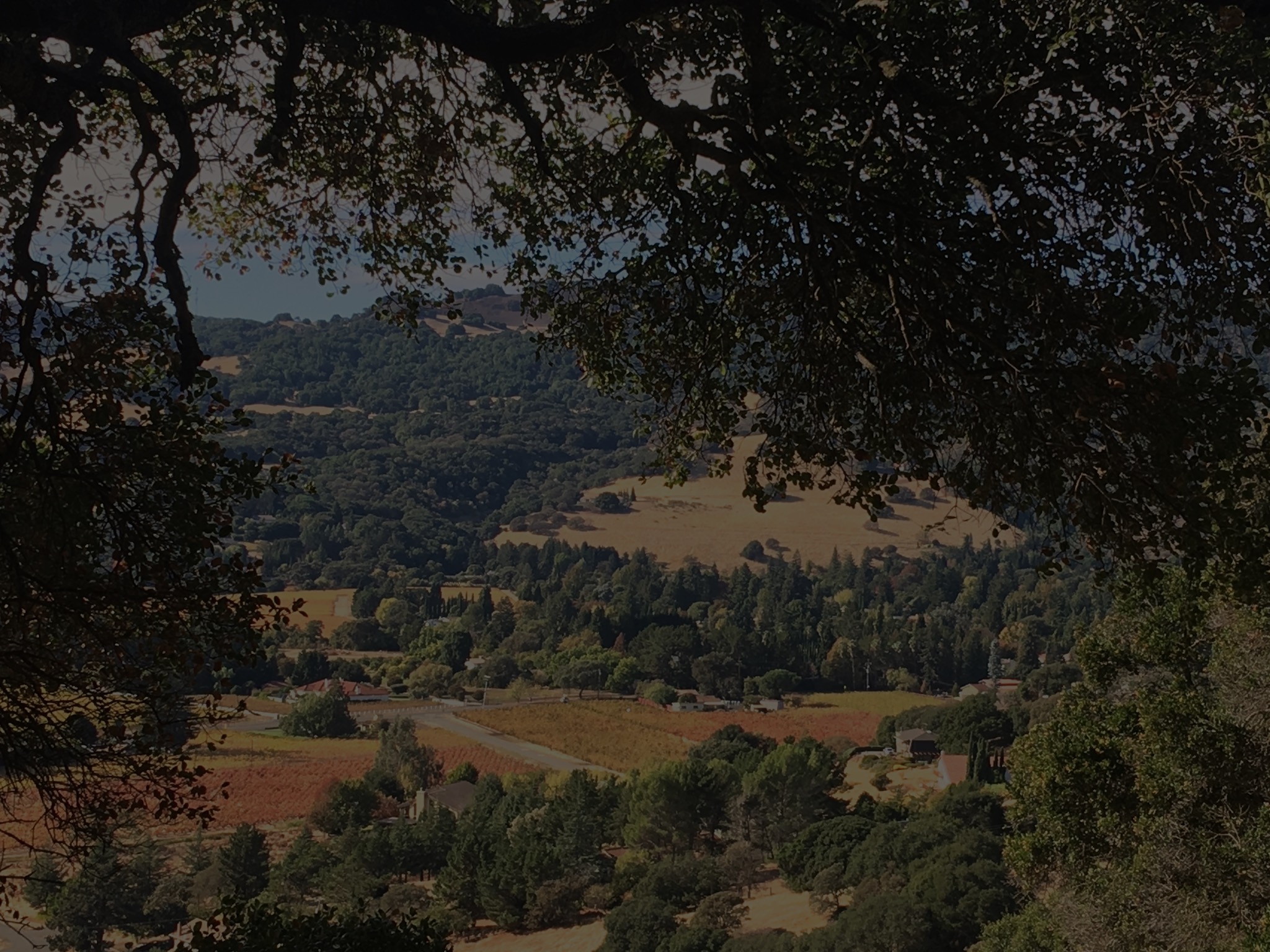 All Workshops ♫
Over 14 hours of fiddle sessions with Darol, Annie, and perhaps others.

Good Food♫
Join Darol, Annie, Emy and all our fiddle buddies for two lunches and two dinners at nearby restaurants.

Evening Open Mic/Jam Sessions ♫
Bring your fiddle and/or other instruments (as well as your singing voice) to these post dinner music sessions where we just let it all hang out.

Faculty Performances♫
Close-up and intimate performances with Darol, Annie, and Emy just for our participants.

Welcome Goodie Bag♫
You'll get some nice surprises in that goodie bag when you arrive.

Sunday Concert♫
If you want, you can join Darol, Annie, and Emy perform at a local venue.

What Will You Learn?
Melody, phrasing and bow management techniques

How to build your solos, simple or busy

Mapping out the neck

Song and tune structure tips

Irish, bluegrass, and jazz style ideas

Tips for jamming comfort

Getting more reliable intonation

Some great tunes in a variety of styles

Lots of low-pressure jamming
THE LOCATION

Benicia is a small historic town in the Bay Area, located on the Carquinez Straits about halfway between San Francisco and the Napa Valley. Its quaint, small downtown has a host of boutiques, restaurants, art galleries, and other interesting establishments that lead right to the water's edge. This one-time state capital (1853-54) has a colorful history that can still be felt today – and is part of the charm that has attracted many artists and musicians to call this place home.
BENICIA waterfront: on the carquinez straits
between San Francisco and the Napa valley
evening meals at local restaurants
Even Dunlop Manufacturing, a leading producer of electronic effects, picks, capos, slides, strings and other musical instrument accessories has made Benicia its headquarters ever since its beginning days in 1965 when they started making such legendary products as the Crybaby wah-wah pedal and Tortex picks. We are so grateful for their years of product development and service to musician's all over the world.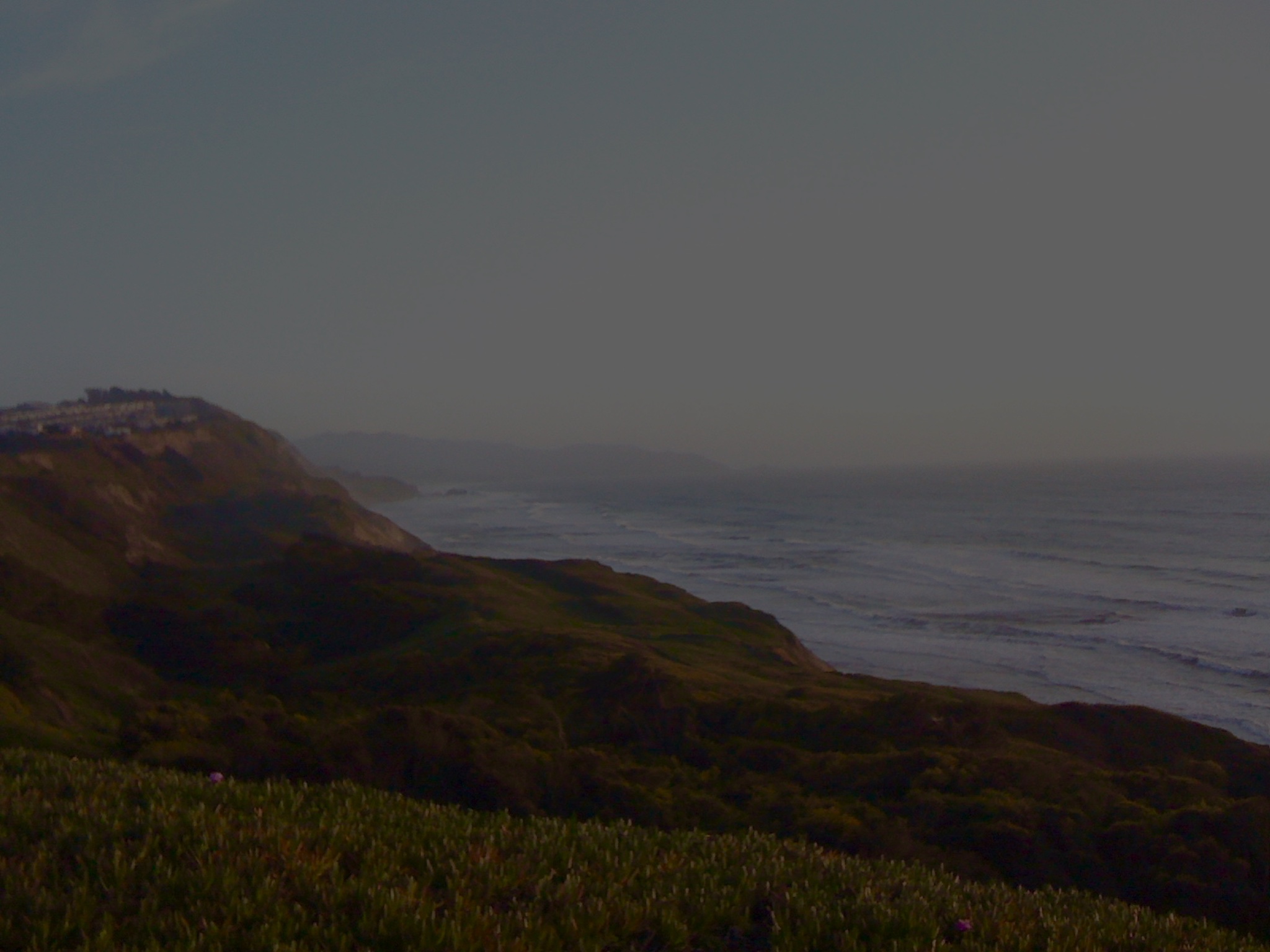 3:30 – 4:00 pm Students Arrive

4:00 pm – 4:30 pm Retreat Welcome & Introductions

4:30 – 6:30 Workshop I

7:00 pm – 8:30 pm Dinner

9:00 pm – 11:00 pm Instructor Concert & Evening Jams
9:30 am – 10:30 am Workshop II

11:00 – 12:30 pm Workshop III

12:30 pm – 1:45 pm Lunch

2:00 pm – 3:30 Workshop IV

3:30 pm – 4:00 pm Coffee Break

4:00 – 5:30 pm Workshop V

7:00 – 8:30 pm Dinner

8:30 pm – 11:00 pm Evening Jams
9:30 am – 11:00 Workshop VI

11:30 am – 1:00 pm Workshop VII

1:00 pm – 2:15 pm Lunch

2:15 pm – 3:30 pm Workshop VIII

3:30pm – 4:00pm – Coffee Break

4:00 pm – 5:30 Workshop IX

7:30 pm – 9:30 pm Performance at Local Venue (optional)
*Subject to Modification
THIS IS WHAT People TELL US
Learning from Darol is a life changing musical experience for many who have studied with him. Here's what a few say about his ability to teach and inspire others…
"Darol anger's teaching is like Darol himself——patient, brilliant, generous, wacky, inspired, original, kind. I often walk by a room where Darol is teaching and think "I hope those kids know how lucky they are!" then i see their faces—they know."
— Matt Glaser, Artistic Director, American Roots Music Program, Berklee College of Music
"Darol Anger is a genius, both musically and in general. He's a great teacher because he can communicate things in such a way that they at first seem very specific and then turn out to apply to a great many things. He's wonderful at articulating ideas in a way that makes total sense but also becomes more profound the more you think about it. And he's really fun and hilarious to boot! It's not often that you find a teacher who can make you laugh so much while not even straying from the course of study. He's endlessly creative, which makes learning from him feel like a joint exploration."
—Brittany H., fiddler
"Darol Anger changed my life as a teacher and performer. As a VERY classically trained cellist, I was bowled over by his playing and teaching. He is a very kind but thorough teacher in a variety of musical forums - clinics, camps, workshops and on the stage. Because of Darol, my musical world has expanded to include all sorts of music. I have advocated for teaching all styles of music ever since."
—Renata Bratt, Ph.D., Eclectic Style Cellist, clinician and composer/arranger
FREQUENTLY ASKED QUESTIONS
Q. WHEN AND WHERE DOES THE RETREAT TAKE PLACE? ♫
The retreat classes will take place in Benicia, CA. from October 11 - 13, 2019 at Upstairs at First Street Cafe in downtown Benicia or The Guard House, a historic building about a mile away. Upon registration you will receive more detailed information about local lodging, retreat venues, and transportation to Benicia. Six weeks before the retreat you will receive the final retreat schedule.
Q. CAN MY PARTNER ATTEND EVEN THOUGH THEY WON'T PARTICIPATE IN THE CLASSES?♫
Absolutely, non-participating partners are very welcome and the price per non-participating partner is $199 which can be added to the retreat fee when you register. Partners may also sit in on a workshop session or two as long as there is adequate space in the room.
Q. WHAT IS YOUR CANCELLATION POLICY? ♫
You can receive a full refund minus any credit card fees within the first 30 days of booking. Please consider getting travel insurance to cover unexpected occurrences.
Q. WHAT ABOUT ACCOMMODATION?♫
Accommodations are not included in the price of your retreat ticket. Upon registration you will receive a Fact Sheet with links to nearby hotels/inns. These include the Shorelight Inn, Inn at Benicia Bay, Union Hotel (all in the center of the small downtown area of Benicia and a five minute walk from each other) and the Heritage Inn or Holiday Inn Express which is about a mile away. Call or go online to make your reservations for accommodations as soon as possible – there is limited availability at each location. It is your responsibility to make and attend to your lodging reservation. If you speak to the caretaker/front desk person, they will let you know if there is a discount because you are attending the retreat. You can also check out AirBnB.
Q. WHO CAN I CONTACT IF I HAVE OTHER QUESTIONS RELATED TO THE RETREAT? ♫
Please contact us.
Q. CAN YOU ACCOMMODATE THOSE WITH DIETARY ISSUES? ♫
We are happy to cater for people with diet issues. Vegetarian, vegans and basic diet requirements are included in the price – just contact us.
Q. ARE THE RETREAT VENUES SUITABLE FOR THOSE WITH MOBILITY ISSUES?♫
We are not able to accommodate anyone with severe mobility problems. Please contact us to discuss your particular needs
Q. HOW DO I GET THERE? ♫
You can travel to Benicia either by air or road.

By air: Benicia is usually 45minutes from Oakland International Airport and an hour from San Francisco International Airport (SFO).

Public transportation to Benicia from the airports include: BART (to Pleasant Hill) – www.bart.gov – and Evans Airporter to Vallejo – www.evanstransportation.com. From BART taxi or Rideshare to Benicia.

Some of our other retreats include:
are hosted by Peppino D'Agostino and Donna Wapner. Our goal is to find special locations where small group experiences can flourish and encourage the exploration of one's creativity and musicianship. When participants walk away having learned something new, made new friends, are content and inspired, want to join us again and had fun - we know we have done our job. Thank you to all who have supported these efforts through the years.
Stay in Touch:
Check your inbox. You will receive a one-click confirmation from our email provider. Respond if you'd like to receive our newsletter and get information about future retreats.
If you have any trouble with this form, just email Donna Wapner at: dwapnermusic [AT] gmail [DOT] com