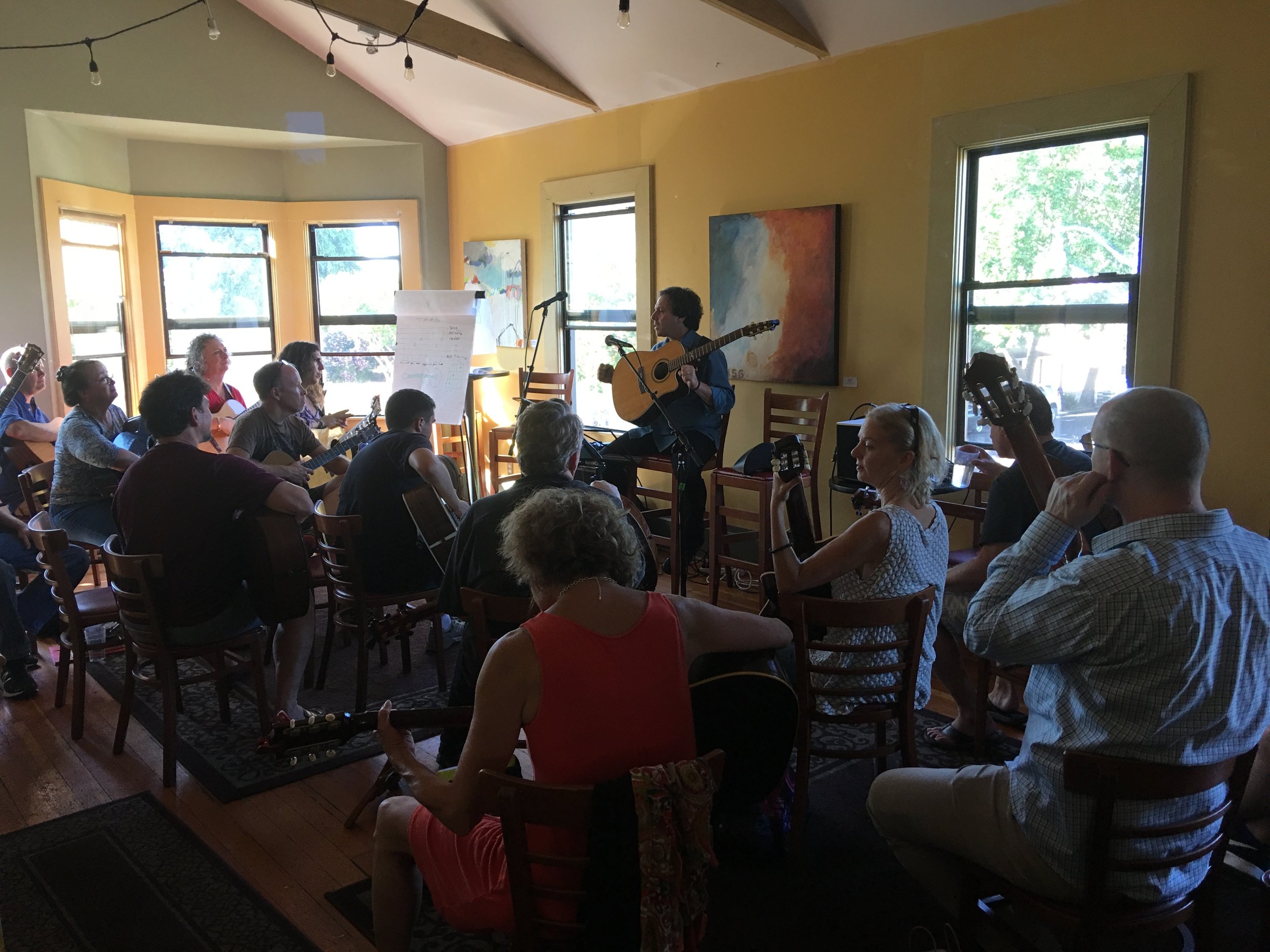 Expand Your World with Music and Learn from the Best
California Songwriter's retreat
with
David Wilcox
and Guest Instructors
Peppino D'Agostino and Annabelle Marie
November 1 - 3, 2019
Benicia, California
Join us for three days of learning the art of songwriting, the keys to accompaniment, and the secrets to finding your authentic voice.
Whether you've been writing songs for years, or want to get started, you'll be able to immerse yourself in the craft of songwriting, learn simple techniques to spice up your accompaniments, gain some valuable vocal exercises, and enhance your creativity. You will gain practical tools and insights that will accelerate your songwriting skills.
Not only will you get a chance to learn from these master teachers and touring artists, but there will also be plenty of time for playing music together. If you want, you'll be able to share some of the songs you've been working on and get feedback. You can also join David, Peppino, or Annabelle for a tune or two at the evening jams or at the final student performance.
Part of the magic and joy of this 3-day event is that it is a relaxed, intimate gathering with others who want to develop their songwriting skills and overall musical creativity all while meeting new friends, enjoying good food and wine – and just having a GREAT TIME!
Each evening you will have the opportunity to perform some of your songs or jam with your fellow musicians and instructors.
ALL YOU HAVE TO DO IS BE READY TO MAKE SOME MUSIC!!
(Space is limited to 30 students ONLY, so don't wait to register )
Registration is Open
Time until all the Magic Begins…
David Wilcox
Cleveland-born David Wilcox is a father, a husband, a citizen and a songwriter. First inspired to play guitar after hearing a fellow college student playing in a stairwell, Wilcox is now 20 records into a career marked by personal revelation and wildly loyal fans. His lyrical insight is matched by a smooth baritone voice, virtuosic guitar chops, and creative open tunings, giving him a range and tenderness rare in folk music.
His latest record The View From the Edge (2018) is a collection of powerful new songs, many of which he has been performing at live shows for the past several years. It's an album that reflects four years of thinking, writing, crafting, playing and life. In recognition of this new release, David Wilcox was named the Grand Prize Winner of the 2018 USA Songwriting Contest.
Considered a 'songwriter's songwriter', his songs have been covered by artists such as K.D. Lang and many others. In addition to his writing prowess, his skills as a performer and storyteller are unmatched. He holds audiences rapt with nothing more than a single guitar, thoroughly written songs, a fearless ability to mine the depths of human emotions of joy, sorrow and everything in between, and all tempered by a quick and wry wit. In live performance, David loves making up a spontaneous song for an audience member in need. Anyone who has seen Wilcox perform more than once or twice has seen him concoct one of his "Musical Medicine" songs on the spot, full of lyrical artistry and musical inventiveness, like some kind of uncanny parlor trick.
David Wilcox finds inspiration wherever he looks. The songs in turn provide inspiration to longtime listeners as well as those finding him for the first time. It's in the song and the craftsmanship; it's medicine for the soul; it's story; it's a restless spirituality. During the retreat, David will share how he moves from inspiration to creation to finished song and performance - all with his own brand of humor, insight, and warmth.
Peppino D'Agostino
Peppino D'Agostino, a native of Italy, has been hailed as "a guitarist's guitarist" by Acoustic Guitar magazine, consistently named "One of the 100 Greatest Acoustic Guitarists" by Digital Dream Door, and recently recognized as "One of the 50 Transcendent Acoustic Guitarists" by Guitar Player Magazine. Even his Peppino D'Agostino Seagull Signature Guitar model has won accolades as one of the 10 best signature guitars by Guitar Player Magazine.
He has performed in more than 30 countries, recorded 18 albums, been featured at prestigious international music festivals, and played with prominent artists from around the world - including Tommy Emmanuel, Leo Kottke, Martin Taylor, and Eric Johnson to name a few.
When not performing, Peppino also enjoys teaching. Truefire released two of his online courses, he's made other teaching videos, coaches individual students when time permits, and has done master classes at university and conservatory programs around the globe. He finds particular satisfaction in helping singer songwriter's create arrangements that highlight their melody, lyrics, and voice.
Annabelle Marie
Annabelle Marie is a composer, arranger, vocalist and musician. She studied with the late Judy Davis, legendary vocal coach whose students included Barbra Streisand, Frank Sinatra, Mary Martin, Grace Slick, and Eddie Money. Annabelle focuses on unlocking the voice and techniques to repair strained pipes. Ms Marie teaches people how to breathe properly, enunciate, and strengthen their vocal cords in order to project freely. She has devised many vocal exercises so that singers find their authentic voice, control their sound, and sing with confidence.
She's toured as a vocalist and violinist with Dan Hicks and the Hot Licks in Europe, Japan, and the Americas, and is the executive director and founder of a world renowned multi-cultural children's choir, VOENA, that has been training young performers for 25 years. The choir has been repeated guests of the White House, sang at the Vatican in Rome, wowed members of the World Expo in Japan, was invited to perform opening day of the 2012 London Olympics, and most recently sang at the Interfaith Alliance Conference in Abu Dhabi. She regularly teaches vocal workshops and has been inspiring people of all ages for years which led her to present at a TEDx event in Napa Valley and to be a recipient of the Jefferson Award for extraordinary public service. She embodies the joy that comes from singing and using one's voice for good.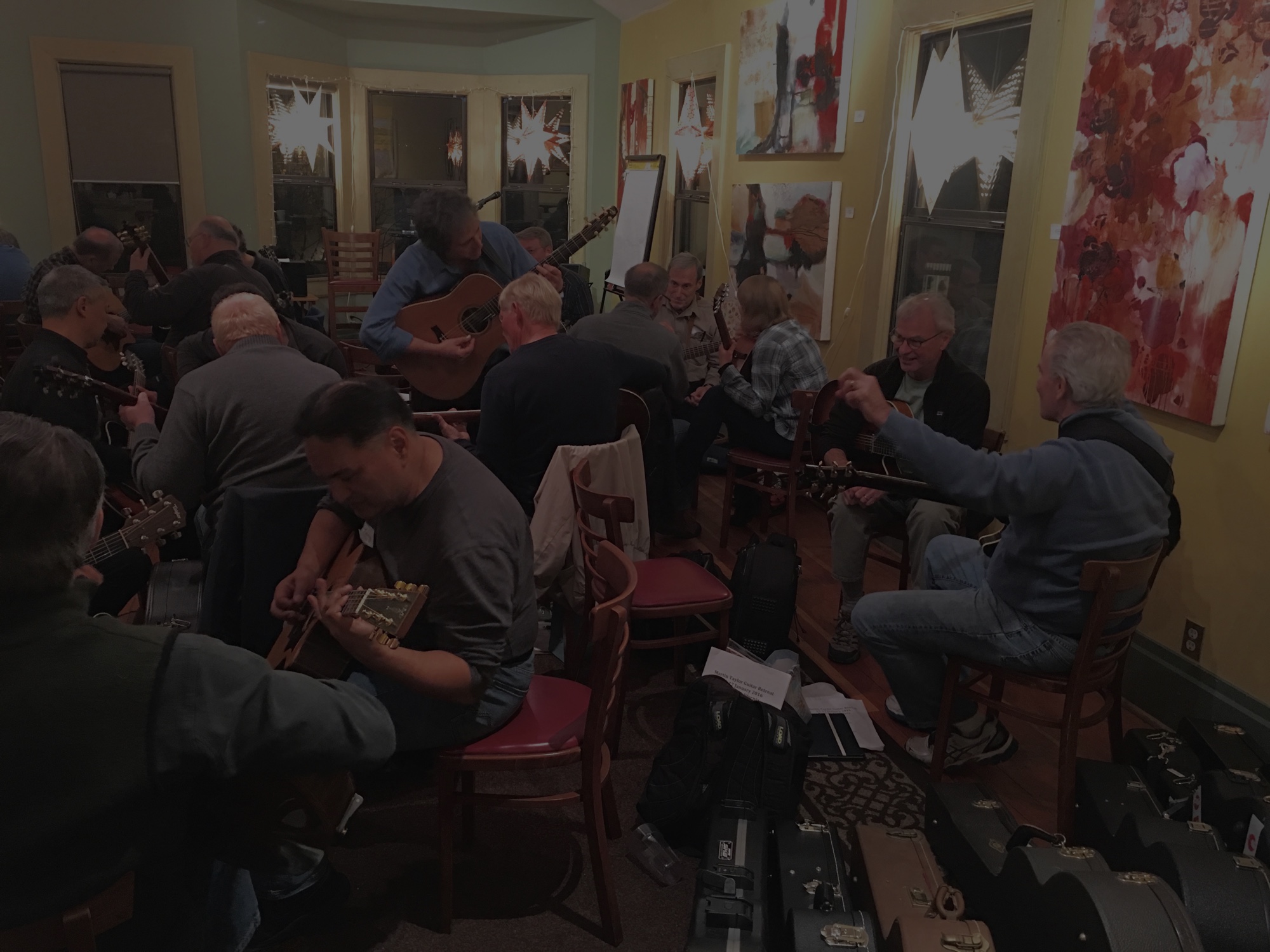 What will You Do each day?
You will learn all about the art and craft of songwriting (and also get a chance to play your originals too!!). This is a high-energy, hands-on retreat where all activities are designed to help improve your skills and performance.
Fuel Inspiration
Our focused, yet playful exercises will re-ignite your creativity, imagination, and approach to developing song possibilities.
Discover Natural Songwriting Rules
You'll get to practice the building of a song from a variety of vistas and starting points - melody, idea, emotion, title, chorus
Enhance Your Lyric Writing Skills
You'll practice bringing your songs to life by "digging deeper" and "unearthing" your song's lyrics.
Find Accompaniments that Work
Whether you accompany yourself or not, learn the essentials of musical support so you can increase your song's impact.
Sing Your Truth
You'll learn techniques to enhance your vocal abilities and gain confidence in your singing.
Perform On Stage
If you want you can join other students or David, Peppino, and Annabelle on stage at a local venue.
RETREAT PARTICIPANT
$1399
ALL ACTIVITIES INCLUDED
ALL WORKSHOPS (14+ hrs instruction)
Welcome Goodie Bag
2 Lunches & 2 Dinners
Evening jam sessions & instructor performances
Sunday night student performance (optional)!
PARTNER ADD-ON
$199
PERFECT FOR FRIENDS AND FAMILY
Free time
Explore the area
2 Lunches & 2 Dinners
Evening jam sessions & instructor performances!
Sunday night student performance (optional!)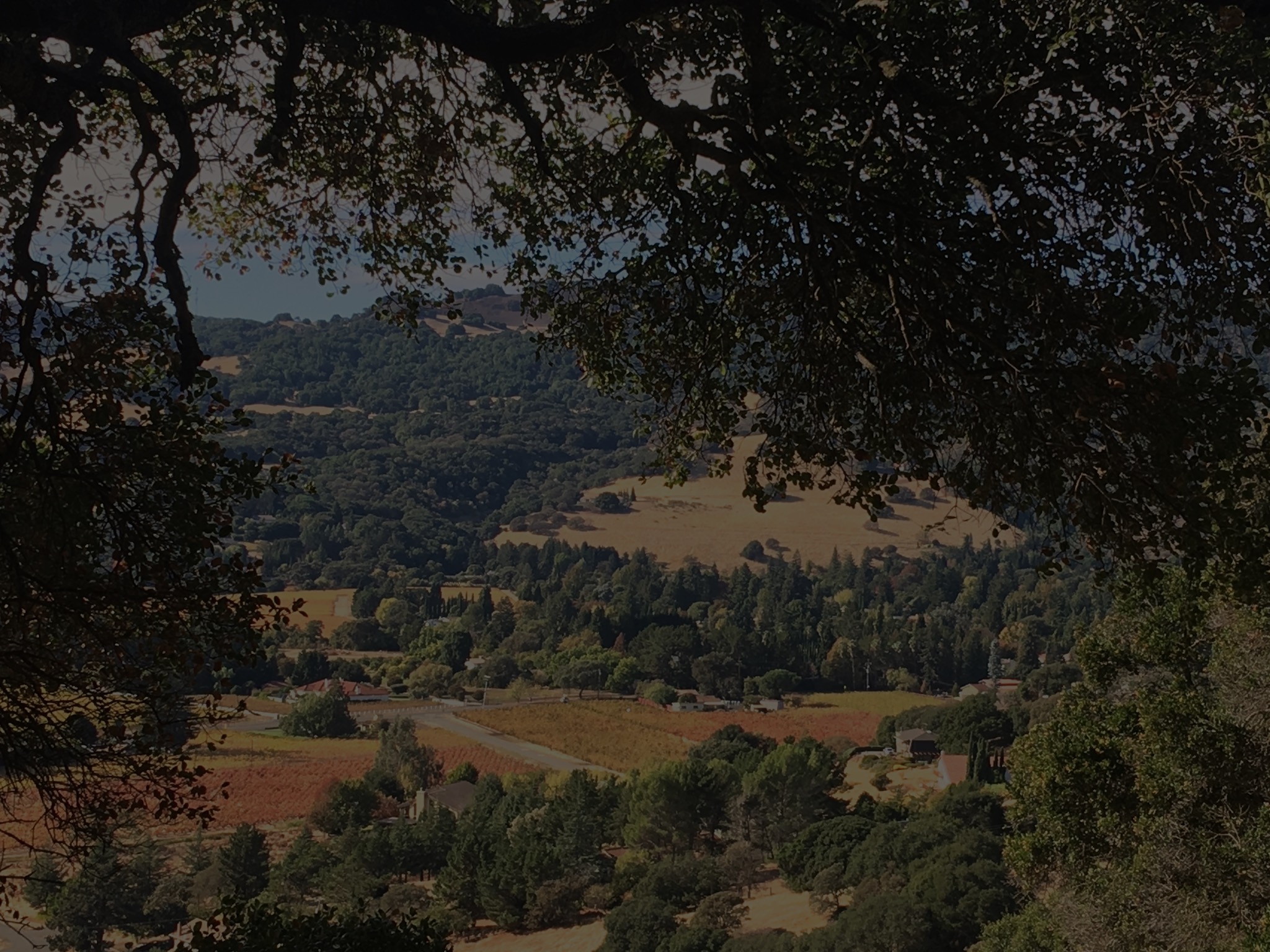 All Workshops ♫
Over 14 hours of songwriting sessions with David, Peppino, and Annabelle.

Good Food♫
Join David, Peppino, and Annabelle and all of your songwriting buddies for two lunches and two dinners at nearby restaurants.

Evening Open Mic/Jam Sessions ♫
Bring your songs, your voice, and your instrument to these post dinner music sessions where we just let it all hang out.

Faculty Performances♫
Close-up and intimate performances with David, Peppino, and Annabelle just for our participants.

Welcome Goodie Bag♫
You'll get some nice surprises in that goodie bag when you arrive.

Sunday Concert♫
If you want, you can join David, Peppino, and Annabelle perform at a local venue.

What Will You Learn?
Natural Rules of Songwriting

Gathering and Editing Ideas

Writing Lyrics Through the Layers

Enhancing your Creative Life

Basics of Accompaniment

Spicing Up a Guitar Accompaniment

Finding Your Authentic Voice

Singing with Confidence

Putting All the Elements Together
THE LOCATION

Benicia is a small historic town in the Bay Area, located on the Carquinez Straits about halfway between San Francisco and the Napa Valley. Its quaint, small downtown has a host of boutiques, restaurants, art galleries, and other interesting establishments that lead right to the water's edge. This one-time state capital (1853-54) has a colorful history that can still be felt today – and is part of the charm that has attracted many artists and musicians to call this place home.
BENICIA waterfront: on the carquinez straits
between San Francisco and the Napa valley
evening meals at local restaurants
Even Dunlop Manufacturing, a leading producer of electronic effects, picks, capos, slides, strings and other musical instrument accessories has made Benicia its headquarters ever since its beginning days in 1965 when they started making such legendary products as the Crybaby wah-wah pedal and Tortex picks. We are so grateful for their years of product development and service to musician's all over the world.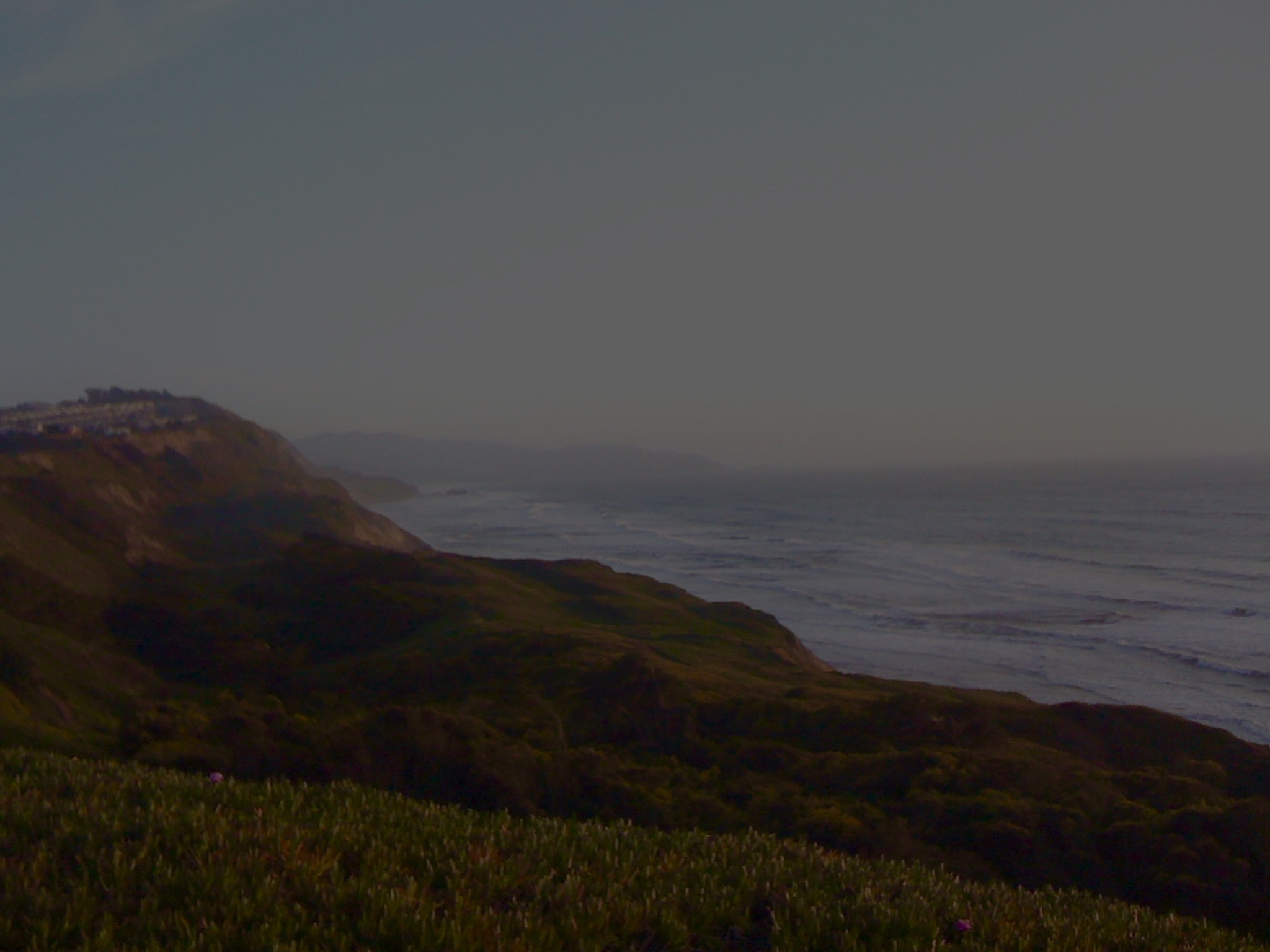 3:30 – 4:00 pm Students Arrive

4:00 pm – 4:30 pm Retreat Welcome & Introductions

4:30 – 6:30 Workshop I

7:00 pm – 8:30 pm Dinner

9:00 pm – 11:00 pm Instructor Concert & Evening Jams
9:30 am – 10:30 am Workshop II

11:00 – 12:30 pm Workshop III

12:30 pm – 1:45 pm Lunch

2:00 pm – 3:30 Workshop IV

3:30 pm – 4:00 pm Coffee Break

4:00 – 5:30 pm Workshop V

7:00 – 8:30 pm Dinner

8:30 pm – 11:00 pm Evening Jams
9:30 am – 11:00 Workshop VI

11:30 am – 1:00 pm Workshop VII

1:00 pm – 2:15 pm Lunch

2:15 pm – 3:30 pm Workshop VIII

3:30pm – 4:00pm – Coffee Break

4:00 pm – 5:30 Workshop IX

7:30 pm – 9:30 pm Performance at Local Venue (optional)
*Subject to Modification
FREQUENTLY ASKED QUESTIONS
Q. WHEN AND WHERE DOES THE RETREAT TAKE PLACE? ♫
The retreat classes will take place in Benicia, CA. from November 1 - November 3, 2019 at Upstairs at First Street Cafe in downtown Benicia or The Guard House, a historic building about a mile away. Upon registration you will receive more detailed information about local lodging, retreat venues, and transportation to Benicia. Six weeks before the retreat you will receive the final retreat schedule.
Q. CAN MY PARTNER ATTEND EVEN THOUGH THEY WON'T PARTICIPATE IN THE CLASSES?♫
Absolutely, non-participating partners are very welcome and the price per non-participating partner is $199 which can be added to the retreat fee when you register. Partners may also sit in on a workshop session or two as long as there is adequate space in the room.
Q. WHAT IS YOUR CANCELLATION POLICY? ♫
You can receive a full refund minus any credit card fees within the first 30 days of booking. Please consider getting travel insurance to cover unexpected occurrences.
Q. WHAT ABOUT ACCOMMODATION?♫
Accommodations are not included in the price of your retreat ticket. Upon registration you will receive a Fact Sheet with links to nearby hotels/inns. These include the Shorelight Inn, Inn at Benicia Bay, Union Hotel (all in the center of the small downtown area of Benicia and a five minute walk from each other) and the Heritage Inn or Holiday Inn Express which is about a mile away. Call or go online to make your reservations for accommodations as soon as possible – there is limited availability at each location. It is your responsibility to make and attend to your lodging reservation. If you speak to the caretaker/front desk person, they will let you know if there is a discount because you are attending the retreat. You can also check out AirBnB.
Q. WHO CAN I CONTACT IF I HAVE OTHER QUESTIONS RELATED TO THE RETREAT? ♫
Please contact us.
Q. CAN YOU ACCOMMODATE THOSE WITH DIETARY ISSUES? ♫
We are happy to cater for people with diet issues. Vegetarian, vegans and basic diet requirements are included in the price – just contact us.
Q. ARE THE RETREAT VENUES SUITABLE FOR THOSE WITH MOBILITY ISSUES?♫
We are not able to accommodate anyone with severe mobility problems. Please contact us to discuss your particular needs
Q. HOW DO I GET THERE? ♫
You can travel to Benicia either by air or road.

By air: Benicia is usually 45minutes from Oakland International Airport and an hour from San Francisco International Airport (SFO).

Public transportation to Benicia from the airports include: BART (to Pleasant Hill) – www.bart.gov – and Evans Airporter to Vallejo – www.evanstransportation.com. From BART taxi or Rideshare to Benicia.

Some of our other retreats include:
are hosted by Peppino D'Agostino and Donna Wapner. Our goal is to find special locations where small group experiences can flourish and encourage the exploration of one's creativity and musicianship. When participants walk away having learned something new, made new friends, are content and inspired, want to join us again and had fun - we know we have done our job. Thank you to all who have supported these efforts through the years.
Stay in Touch:
Check your inbox. You will receive a one-click confirmation from our email provider. Respond if you'd like to receive our newsletter and get information about future retreats.
If you have any trouble with this form, just email Donna Wapner at: dwapnermusic [AT] gmail [DOT] com